Annie Kadota '12, who majored in Sport Management and was on the women's soccer team at Rice University, had a once in a lifetime experience working at the Sochi 2014 Winter Olympic Games. Kadota is employed by San Francisco-based GMR Marketing, which was hired by a major client for the Sochi Games.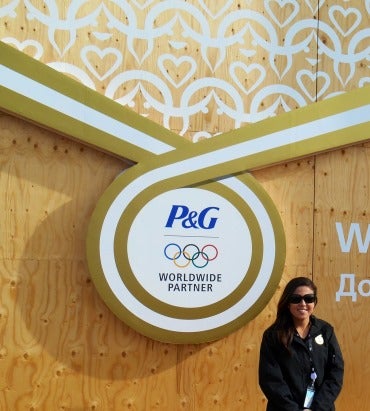 "P&G (Procter & Gamble) hired our agency to assist with their hospitality activation," Kadota explained. "Their activation is called the P&G Family Home, which is designed to act as a 'home away from home' for the athletes and their families."
The P&G Family Home provided daily meals and complimentary services to Olympic athletes and their families throughout the course of the Games. The services all showcased P&G products, such as haircuts by Pantene, make-up and nail services by CoverGirl, and hot towel shaves by Gillette. Overall, the Home served more than 3,000 guests from around the world.
As the Enrollment Manager in Sochi, Kadota oversaw all of the processes involved in registration, credentialing, and access control for the Home. Because of this role, Kadota met athletes from all around the world and said it was "fascinating to learn about the journeys of the different athletes and how their families have supported them along the way."
"My favorite moment so far has been forming relationships with the athletes and their families," Kadota said. "After working on this account for so long, it is extremely rewarding to witness firsthand how appreciative they are of all your efforts. I have especially enjoyed working on this account because it allows me the opportunity to interact with the guests on a more personal level, which makes the experience that much more meaningful."
During her undergraduate career at Rice, Kadota interned with the Houston Dynamo and the NCAA Final Four. After graduation, she worked for SportsMark Management Group before securing her position with GMR Marketing.
Molly Mohr '15, a junior from San Antonio, is double majoring in English and Sport Management and minoring in Business.