Andi Bawcum '16 and Kimberly Vaio '16, both undergraduate students majoring in Sport Management at Rice University, interned with Grand Prix of Houston this past summer in the Marketing and Sponsorship departments.
The Grand Prix of Houston, which is part of the IndyCar Series circuit, made its debut in 1998. The temporary race track was created for the event inside the massive parking lot of NRG Park, which is the home stadium for the Houston Texans.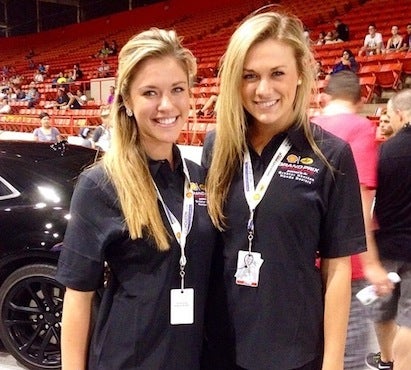 "In the months leading up to the race, Andi and I worked in Marketing and Sponsorship Fulfillment. Specifically, there was an event, "Kids Get in Free on Friday," which we marketed across the city of Houston," said Vaio. "For sponsorship fulfillment, we communicated with various sponsors and made sure that they received everything that was promised in their contract and also handled any other last minute requests."
During the event, Bawcum and Vaio's main responsibility was to ensure the sponsors of the weekend event were satisfied and also resolve any problems that would arise. In addition, they both helped out with constructing and maintaining event stations that were set up by the biggest sponsors of the Grand Prix of Houston. They both explained that the race was only a part of the whole weekend event. They stressed the importance of keeping customers happy, especially in between races.
"The marketing team advertised it as a '3-Day Festival of Speed,' so that it was seen as much more than just a race," said Bawcum. "There were many different activities and entertainment options throughout NRG Park during the whole weekend, so spectators would not be bored between races. A main title sponsor, Shell Oil, had a huge interactive display in the neighboring arena that showcased their brand by hosting different activities and events."
Both Bawcum and Vaio were able to take away some great learning experiences from interning with the Grand Prix of Houston. They were able to see the preparation, hard work and dedication that goes into the planning of a massive event that lasts only a weekend.
Brian Smith, a senior from Houston, is double majoring in Sport Management and Sport Medicine.